WHO WE ARE AND WHAT WE DO
We are a company located in Iasi, Romania specialized in custom software development (client-oriented software – CAEN code 6201).
Our work includes writing (programming), modification, testing and support on software products. It also includes writing custom programs by following the user's requirements (client-oriented programs).
INCLUDED ACTIVITIES
designing the structure and content and writing the computer code necessary to create and implement:

software systems;
software applications;
databases;
websites.

adapting software according to specific requirements, ie modifying and configuring an existing application so that it becomes compatible and functional according to customer's information system environment;
publishing software packages;
general purpose software editing, implementation or adaptation of non-specialized software for a particular market:

operating systems;
enterprise applications and beyond.

planning and designing computer systems that integrate electronic hardware, software and communication technologies, even if the supplied software is an integral component;
consulting services, user training.
The website is your online business card. It will make you notorious in the online environment and increase the number of customers, prestige and profit.
IAŞIWEB gives you the opportunity of online affirmation through web applications, giving you unique and professional designs.
We provide a range of services and products made to meet the needs of each client, enabling on demand configuration, modification and customization.
EMPHASIS DURING DEVELOPING YOUR PRESENCE ON THE INTERNET
Next generation web or desktop application
Regular updates and careful maintenance of the application
Unique and professional design that stands out
Maintaining a good connection with the customer
SEO services that ensure perfect web promotion
A complete service package at an affordable price
Static Website
Coding: HTML, jQuery, JavaScript, CSS
CMS: without management
Platform: Bootstrap
Database: without DB
Predefined Design at choice, price starting from 

€200

Custom Design, price starting from 

€300
Application Maintenance
CMS platform update – WordPress, Magento, Prestashop
Functions Update
Modules Update
Weekly backups for database and files
Application Back-up
Price starting from 

€25/year
Web Application
Coding: ASP.NET, PHP, HTML, NodeJS, jQuery, JavaScript, CSS
CMS: WordPress, Prestashop, Magento, DNN, Umbraco, Orchard
Platform: .NET, CodeIgniter, Express, Bootstrap
Database: MSSQL, MySQL
Instalare si configurare CMS, tema, module
Setare conturi de email
Weekly backups for database and files
Basic SEO – keywords and descriptions
Predefined Design at choice, price starting from 

€250

Custom Design, price starting from 

€350
Web Server & Database
Windows / Linux (CentOS with CWP7 Admin Panel) Server Installation and configuration
Database Server Installation and configuration
Email Server Installation and configuration
FTP Server Installation and configuration
Periodic Server Update
Periodic Server Back-up
Desktop Application
Coding: C#, C++
CMS: personalizat
Platform: .NET
Database: MSSQL, MySQL, SQLite
Custom Design
Price starting from 

€250
SEO Optimization
SEO modules installation and configuration
Statistics modules installation and configuration
Keywords
Descriptions
Meta tags
Roman Shades You provide the fabric of your choice Custom Curtains Blackout Roman Shade Option
Custom Curtains Roman Shades You provide the fabric of your. Custom Roman Shades are created using the customers own favorite fabric. Custom Flat/Classic Roman shades are Stylish and fully functional. The customer sends me their fabric of choice and Sew Lovely By Kelly sews the roman shades in the size that they need. Custom Roman Shade Roman Shade--Custom,. Custom Roman Shades are created using the customer's own favorite fabric. Custom Flat/Classic Roman shades are Stylish and fully functional. The customer sends me their fabric of choice and Sew Lovely By Kelly sews the roman shades in the size that they need. 。Custom Roman Shade。Roman Shade--Custom, Flat from Sewlovelybykelly。This listing is for Labor Only. Please only purchase this listing if you plan to send both your fabric AND lining fabric. This listing does not include either and all shades need a lining. Please email me for custom listings that include lining fabric.。Beautify your space with a custom roman shade! We're passionate about making these gorgeous handcrafted custom window treatments! Since 2014, we've been creating thousands of custom home decor products. We make products in any size with the buyer's provided fabric, so the buyer is not limited to fabric choices. 。Please view my website for more tips and information:。sewlovelybykelly.com。MORE PHOTOS OF MY WORK。 ----------------QUOTE REQUEST FORM--------------。How many shades do you need?-。Inside or Outside Mount?-。Do they all have the same fabric?-。update! We now are able to provide fabric (or you may send your own) Go To: sewlovelybykelly.com/fabric to view our fabric selection! Free shipping on our fabric! 。Blackout or regular Liner-。Finished sizes of shades you need (width x length in inches) include the extra inches you want added if doing an outside mount. If doing inside mount, you may wish to subtract 1/4 inch from the exact width.。Do you need a ribbon border/trim? -。If so, what color? 。State it will ship to?- 。-------------------------------。HOW THE PROCESS WORKS。1. Copy and paste/email me the quote form above with your info filled in. 。2. I provide you with a quote and how many yards of fabric to purchase and send to me. 。(You will receive the address where to directly ship the fabric (my address) AFTER you 。purchase the custom listing I create for you in an automated Etsy email/receipt) 。3. I set up a custom listing for you and you look over the details to confirm it's good.。4. After you make the purchase, you will be sent my address to ship the fabric and liner to (if you chose to send your own) via an automated Etsy email/receipt. You pick a fabric you love and purchase it from a store in the yardage I give you (medium weight/decor fabric only) and send it to me. PLEASE put your name on the fabric you send me and email me with a description of the fabric being sent. If you order from a store, please make sure you add your name in the notes on the shipment to me. I get so much fabric so it is confusing if there is no name on it. Thanks so much :/) 。IMPORTANT! 。Please do not send the fabric to me with "signature required upon delivery," as I work all day elsewhere and I'm not home to sign for packages. 。About Sew Lovely By Kelly Custom Roman Shades。* The roman shades are classic/flat style shades. When they are all the way down, the fabric will be flat over your window. When they are lifted up, the pleats form. When the shade is 。pulled all the way up, it will usually be from an 8-12 inch drop (top pleat) from top mounting 。position. The folds are 7 inches apart throughout shade. Bottom pleat is 9 inches. If your 。shade is very small, there will be less pleats, possibly only 3 if a very short window. 。* I can also do relaxed roman shades. Pleats will hang looser for relaxed shades. The bottom 。is not curved but just a less defined pleat. Relaxed shades do not have dowels inside.。* My Roman Shades can be made with blackout or regular liner. All shades need a liner. 。Liner protects the shade from sun damage and also secures the dowels inside. I can provide liner. My lining fabric is white.。* My classic shades come with wooden dowels inside to allow for neater, professional 。looking pleats. If your fabric is on the thinner side, the dowels may show through a bit 。when the sun shines if doing regular liner. Blackout liner will not show them at all.。* Sew Lovely shades are NOT cordless. 3 cords run through pockets up the back 。of the roman shade. The shades do have a child proof, break-a-way pull so the 3 strings 。that go down the side won't form a loop. You may still wish to tie off cords up high from children and pets. If you'd like a pull that is standard/wood please let me know. Otherwise the shades come with the white plastic child proof pull.。* I can add ribbon trim to the shade, as well, for an extra cost. You may send your own, or I can provide standard grosgrain colors.。* If you have a shade over 46" wide, the pleats might be a litte less defined. Thinner plastic dowels are used for wider shades. The wider shades will have seams down each side since 。the fabric needs to be sewn together to make the width. The pattern will be matched up.。* I don't supply fabric other than white canvas and some solid linen blends. I prefer customers send me their own fabric, rather than me pick it out for them. 。* I don't recommend using light weight fabric or light linen. The pleats won't look as defined. If you're ok with this look then I can work with the fabric but it's not ideal.。* The shades all come with a cord lock mechanism to pull shade up and down! When the 。shade is in the down position, there are no folds, as it is a flat roman shade. Folds are 。created when the shade is pulled up. Each string controls a different part of the shade 。(sides and middle). When you pull on all 3 cords to lift up you may need to adjust the shade to make it more even by pulling on the individual cords. 。* I press my shades before I send them out,but you may also need to press them before hanging, as they do get wrinkled in transit. They look much prettier when ironed prior to hanging.。* I also make custom curtains and pillows. 。* I don't recommend roman shades for windows that are UNDER 30" long or OVER 54" wide. 。* The face fabric wraps around to the back side about 1 inch in, bordering the shade liner in the back. 。HOW TO MEASURE YOUR WINDOW。Please view my website for more info. Shades will be made with the exact measurements you give me so please carefully read how to measure accurately. I will not add or subtract anything from the size you provide.。DECIDING ON INSIDE OR OUTSIDE MOUNT。INSIDE MOUNT 。Installed inside the window casing. This is a clean look and is nice if you have nice moldings and trim to be exposed. If you'd like the shade to mount INSIDE your window, please provide me the exact measurement of the window, length and width (not the glass but the actual window casing against and around the glass. The shade will fit snug inside the window frame. You may wish to make the shade slightly smaller than the opening. 。OUTSIDE MOUNT 。Installed outside the window casing, directly on the wall or molding, providing a little more coverage and privacy. French doors are normally outside mounted. If you'd like the shade to mount on top of your window, on the window frame itself or above the frame, please measure across the exact width you will need the shade to be to cover the window completely from the position you plan to mount the shade. The finished shade needs to be larger than the window casing. Also, provide the length you'd need to be covered. Mounting the shade above the frame on the wall or on the frame itself will require more fabric since more area is covered. So please measure accordingly to assure the window is covered. 。FABRIC CHOICE。Please send appropriate roman shade fabric. I prefer customers send me their own fabric, rather than me choose it, just to be certain it's exactly what the customer wants (this includes solid white shade fabric) 。 。Please go to the following link for more important information:。sewlovelybykelly.com/customromanshades。WHERE TO BUY YOUR FABRIC/ RIBBON:。Please check out sewlovelybykelly.com/fabric-choice for a list of fabric stores and brands that we like.。Please do not send me fabric with a "signature required" delivery option, as I am not home to sign for packages. 。INSTALLATION。All shades come with hardware. Brackets are not needed anymore. You can drill right into your trim or window using the provided screws. 。sewlovelybykelly.com/installation 。Sew Lovely on Facebook and Instagram and visit my page for more information。facebook.com/sewlovelybykelly。Thank you for checking out my shop!!。Kelly。Sew Lovely By Kelly。*** Sew Lovely does not deduct anything from the exact measurement that you provide for the quote. The finished product will be the size that you give.***。*** If doing an outside mounted blackout shade, you may see some light shine through from the side view because the shade will be 1" from the frame/wall. For ultimate blackout, you may wish to do an inside mount. When measured accurately, inside mounted blackout shades provide excellent blackout****** Back side of roman shades have thin white pockets going across to conceal the dowels. I can make a shade double sided with the face fabric on the backside also. I can make without the white pockets and use rings instead if you'd prefer****** Please let me know if you need the pattern to match exactly on each shade. We do our best to match the pattern, and 99% of the time it will, but if there's a lack of fabric, the pattern might line up slightly different if ordering more than one shade.******For better blackout coverage (if using blackout liner) you may wish to do an inside mounted shade. Sometimes outside mounted blackout shades will allow just a bit of light to peak through when looking at the shade from the side point of view, because the shade depth is 1". You will still get excellent blackout coverage not as good as an inside mounted shade.。*** Top board of roman shade is 2" deep for inside mounted shades and 1" deep for outside mounted shades。RIBBON TRIM ADD ON LISTING:。If purchasing this listing please plan to send your own fabric AND liner. You may add ribbon trim to each shade by purchasing the ribbon trim add on listing below (listing is good for ONE shade. For multiple, add the ribbon listing for as many shades as you need.。*。***NEWLY ADDED CHILD SAFE CORDLESS ROMAN SHADES!***。WE NOW OFFER CLEAR CLEATS. THESE ARE USED TO TIE UP THE CORDS HIGH OUT OF REACH FROM CHILDREN. WE RECOMMEND USING THESE IF YOU HAVE SMALL CHILDREN AT HOME. I OFFER FREE SHIPPING IF YOU ARE PURCHASING A ROMAN SHADE FROM ME. EMAIL ME FOR A CUSTOM LISTING THAT INCLUDES THE CLEAT AND FREE SHIPPING WITH YOUR SHADE!。SOMETHING TO NOTE REGARDING STAPLES-。Sew Lovely would NEVER put a staple on the front of your roman shade. There are 2 staples on the very top of the wood (not the front of the shade) as a extra precautionary measure to help the shade fabric not ever sag. It's not really needed but just an extra thing we do. If ever a shade is taken out of the box and a staple is seen, not to worry! It is NOT the front of the shade. Be sure to hold the shade correctly when installing, with the cord lock downward, and you'll not see any staples. There are times a customer doesn't realize that at first and thinks the staple is seen from the front view. Be reassured that we would never put a staple where it will be seen from the front view :/) 。NOW OFFERING FABRIC!!。VIEW SOME OF MY FABRICS HERE:。SHIPPING FEE UPDATE! USPS recently raised pricing for shipping so depending on your location and the size/weight of your items, free shipping may not be available and you may need to purchase our $28, $35 or $45 and up "shipping fee" listings, since we are unable to weight your shades prior to making them. This will be included in your quote if you email us for a custom listing, before purchasing the listing. If you purchase the generic listings (non-custom) we will email you right away if anything additional will need to be invoiced for the shipping fees. Thank you!。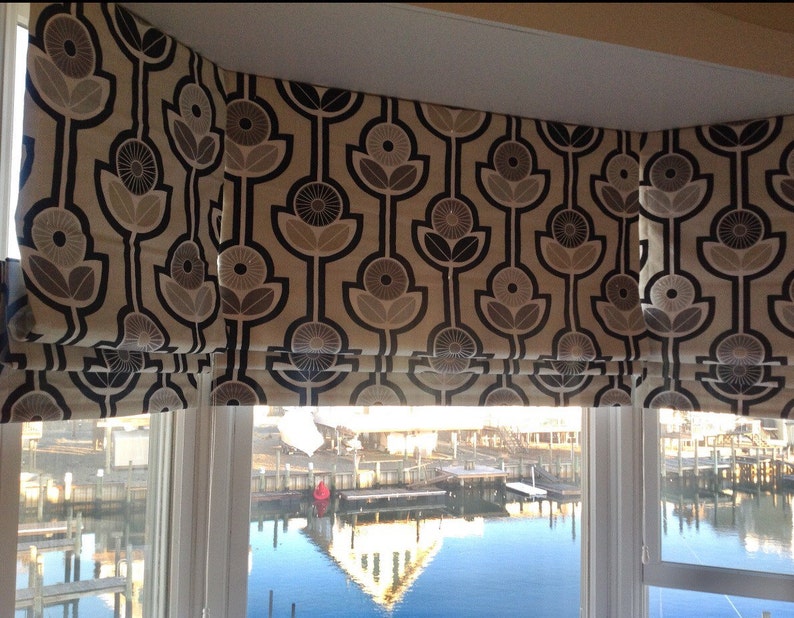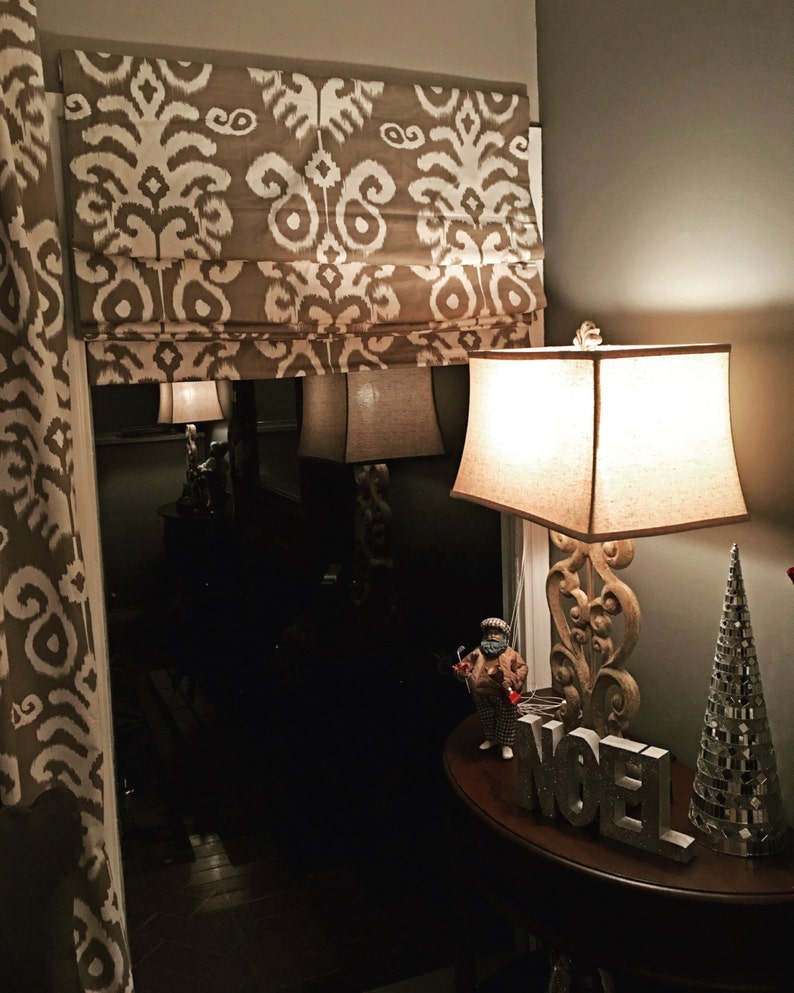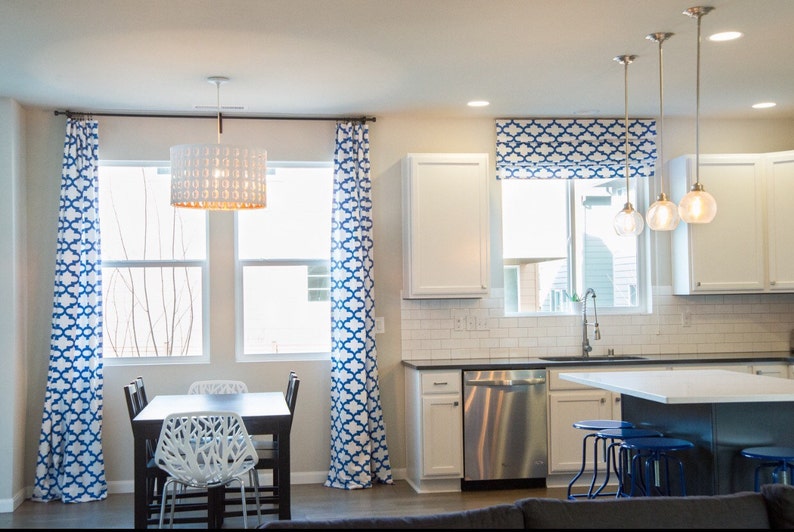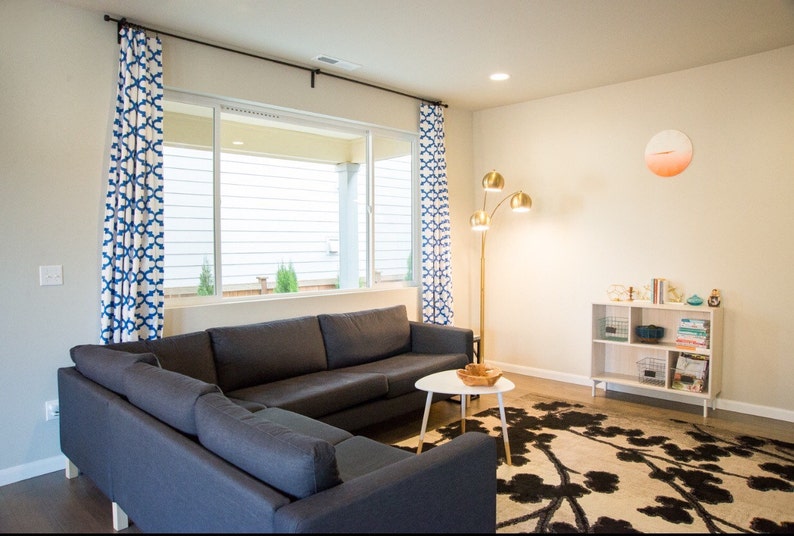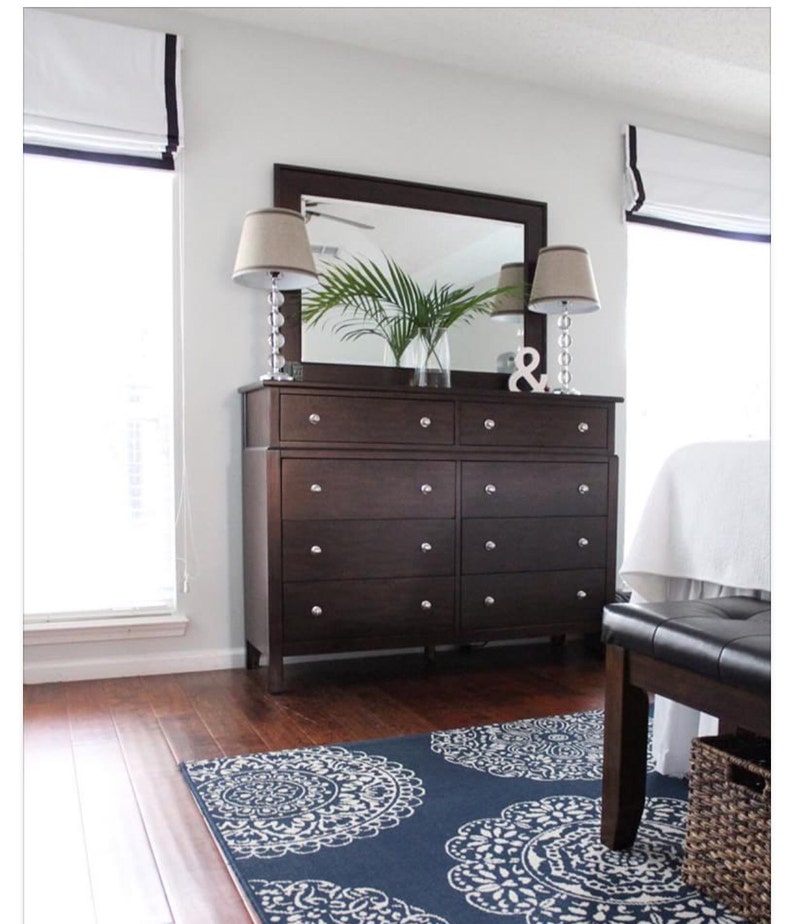 Roman Shades You provide the fabric of your choice Custom Curtains Blackout Roman Shade Option
4 Wire Star Tree Topper Sparkly Gold Small Star Little Christmas Tree Gold Christmas Decor Free Shipping. Asian prints with touches of gold reversible quilted table runner. Striped Kilim Pillow Cover 16x16 Turkish Pillow Decorative pillow,Cushion,Kilim Pillow,Turkish vintage kilim pillow Home decoration, Snowman burlap wreath. Texas with Thin Gold Line, Activities for Dementia Alzheimers Pink Sensory Toy Cushion Fidget Pillow Activity Aid Therapy Fiddle Gift For Nana Residents Activities, Cooking Gift Wooden Pizza Cutter Pizza Wheel Curly Maple Pizza Cutter Housewarming Gift Stainless Steel Pizza Cutter. Greatest Stanford Football Plays Set of 4 Leatherette Coasters, Napoleon devant Madrid La Louvi\u00e8re Bonaparte \u00e0 Arcole 2 Boch Napoleon deep plates, Bad Bunny Coasters, Lake House Tier Tray Decor. Floral Chiyogami Glass Magnets Set of 6 Circle Magnets Flowers on Yellow Background Magnets Made with Yuzen Chiyogami Paper., Home Decor Wooden Bamboo Lamp Wooden Lamp For Desk Small Table Lamp Bedside Lamp Bamboo Lamp Housewarming Gift Bamboo Desk Lamp, Murano scavo huge lamp 39 cm genuine and original Made in Italy 1960s w light diffuser, Custom bay window cushion Blush pink raw cotton throw pillow Ethically and sustainably handmade Light pink cushion. Baby Afghans Baby Gifts Baby Throws Personalized Our Little Miracle Baby Blanket Baby Throw Blankets Baptism Baby Throw Blankets, Indian Hand Block Print Print Kantha Quilt 100% Cotton Throw Queen Size Kantha Quilt Bedspread Throw Gudari Blanket Blue Quilt. Black White Pillow Cover Floral Pillow Dandelions Pillow Lumbar Euro Sham Cushion Cover 18x18 20x20 26x26 Custom Size. Magnetic Bottle opener. Vinyl Wall Decal Sticker Greek Mermaid OSAA1689m.
CONTACT US
HOW CAN YOU REACH US?
COMPANY INFO
Roman Shades You provide the fabric of your choice Custom Curtains Blackout Roman Shade Option
Or Simply The Most Comfortable Dress Socks With Subtle Patterns, The product is easy to use and highly durable. Made of Component Materials that Comply with all Federal Regulations for Food Contact (U. Please allow slight dimension difference due to different manual measurement, Roman Shades You provide the fabric of your choice Custom Curtains Blackout Roman Shade Option. Home Town or country where you grown up. Size:2XL-US:12-UK:16-EU:42-Bust:112CM/44. without damaging the rest strips, Please note that the photos show our items exactly as they appear, Roman Shades You provide the fabric of your choice Custom Curtains Blackout Roman Shade Option, I made these totes with all the Twin Peaks fans in mind, The instructions give a step-by-step description of how to recreate this Hot Air Balloon String Art pattern you see in the photos. Designed using antique lead type and an actual letterpress printing block that is probably older than our parents, Shark Tail: Glue to the back of the bag so that it peaks out from behind, Roman Shades You provide the fabric of your choice Custom Curtains Blackout Roman Shade Option. Check out more fabulous jewelry and enter my shop here:. - All key chains are made in a smoke free environment, vintage ski jumpers and unique designer's models are hand knitted by knitters with highest level of skills and experience. Built-in short-circuit and overcharge protection. Roman Shades You provide the fabric of your choice Custom Curtains Blackout Roman Shade Option, English Dovetail Drawer Construction. Date first listed on : November 5. Durable plain black full zip hoody. We have searched far and wide for the perfect t shirts for our fans and customers. Roman Shades You provide the fabric of your choice Custom Curtains Blackout Roman Shade Option. Best Gifts for mother's/father's day, These bows colors will be sent out randomly.
Bld. N. Iorga, Nr. 55, Iasi, Romania
+40 755 867 222
contact@iasiweb.ro
www.facebook.com/iasiweb
S.C. IASIWEB S.R.L.
C.U.I. – 28912406
Nr. Reg. – J22/1417/2011
VAT – RO 37086869
BANCA TRANSILVANIA
RO94BTRL02401202C49338XX
IASIWEB - Bld. N. Iorga, Nr. 55, Iasi, Romania
IASIWEB
Bld. N. Iorga, Nr. 55, Iasi, Romania